After all the hype leading up to the Bahrain Grand Prix it turned out to be a big dissapointment. Not just for Sebastian Vettel but for everybody watching it at home and the handful of fans at the circuit. Could we now be seeing a return of the days when we see more action off the track than on it?
Nearly all of the teams ran with the same strategy in Bahrain. Why? Because F1 cars are no longer allowed to refuel during the race. Teams only have to pit to change tyres so that they use both compounds of dry tyre during the race. This means that if the tyres perform well only one stop will be needed. Most of the changes the FIA have imposed for 2010 seem to have been put in place to help reduce team costs. But this does not ring true for refuelling as all the teams have a refulling rig in the pit lane because it is still allowed druring practice and quallifying. And god forbid that it's been banned in the name of elf and safety. Bring back refuelling and all of a sudden the bods sat at the laptops can come up with a myriad of different strategies to try and outwit their oponents. I'm certainly not judging the rest of the season on one race here. Bahrain is not a favourite track with the drivers, epspecially since they added nine new corners during the winter, and of the six previous grand prix held at the Sakhir circuit I really can't ever remember a truly exciting Bahrain race.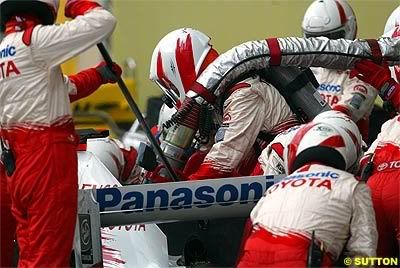 So if the new regulations do make overtaking a rarity, what can be done to change this? Many commentators on the sport are suggesting two compulsory pit stops for every driver. This would help for sure. Car setups could then vary a bit more as tyre degradation would not be of such a concern. McLaren seem to have a very clever way of giving their car an advantage at high speed by introducing the 'F-Duct', giving them a few more km/h on the straights. And have red Bull got something up their sleeve. Vettels qualifying and race speed took everyone by suprise.
So lets not get too carried away yet. Bahrain was no classic by all means but still only the first race of the calender. Every new season brings its changes and we must give the teams and drivers time to adapt and wring the best out of their cars. But please, just for pure entertainment and fun, we must see refuelling brought back. Pit stop fires and team mechanics being dragged half way down the pit lane makes for great entertainment and also better stories for the media. Boring races don't make headlines. Barbequed F1 drivers do.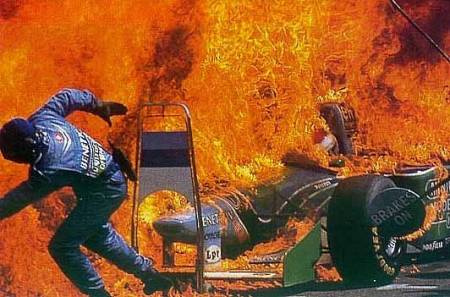 That's all for this time.
Good luck with your predictions for the Australian GP
Ultra